Regular price
$189.00 USD
Regular price
Sale price
$189.00 USD
Unit price
per
Sale
Sold out
Montessori Organizational Shelf with Drop-proof Borders

This shelf is perfect for organization and showcases toys, accessories, and Montessori or Waldorf materials giving your child a sense of order and harmony.
Why choose the Banana Shelf:
Development-focused Design - Our child-size furniture is specifically designed to build self-esteem and independence in your child. This specific piece will give your little one access to choose material from the shelf giving them autonomy and freedom.
Neat and Tidy Storage - The top borders provide added structure, preventing materials from falling off the sides or back, ensuring a neat and tidy appearance for your child's organized materials.
Convenient Size for Small Spaces - Our organizational shelf is compact, yet sturdy, allowing your child to easily access all materials.
Simple Assembly and Portability - Lightweight and easy to move, this organizational shelf can be assembled with ease.
Eco-Friendly and Safe - Made with rounded corners, non-toxic materials and eco-friendly varnish, this piece is constructed with stability and durability in mind, using of beautiful Maple plywood instead of plastic. 
Exceptional Quality - Unlike other brands, we go the extra mile and meticulously fill every tiny hole and varnish all edges to ensure a smooth and beautiful finish. Something you will notice once you get your product. 
100% Satisfaction Guarantee - If your child is not satisfied with our product, we offer a money-back guarantee. Check our our positive reviews for more peace of mind. 
View full details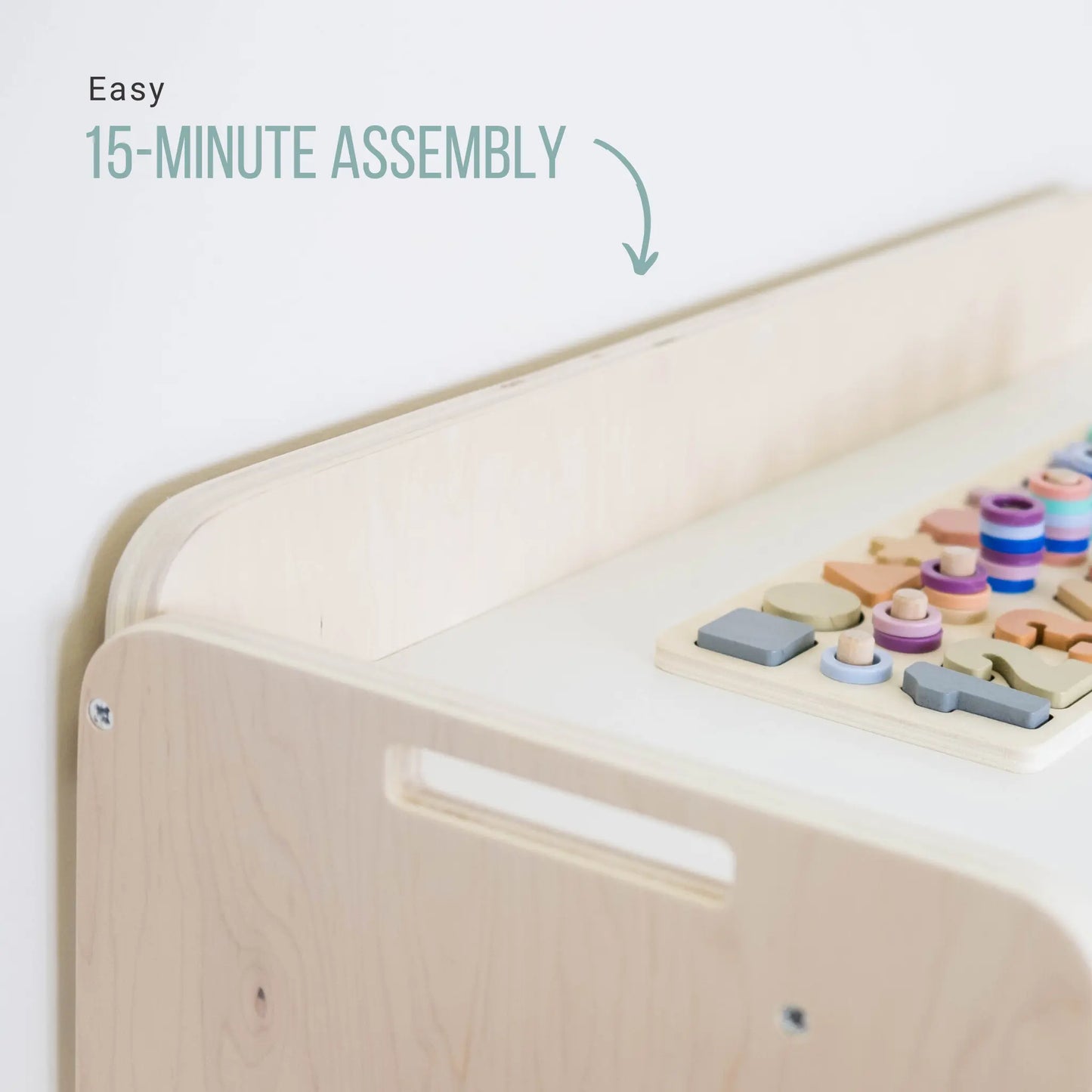 Express Monkey Dispatch
Most furniture stores will make you wait for weeks, if not months, before shipping your product. At Sapiens Child, we have your product ready to ship within one or two days of your order, so you can enjoy it sooner and spend less time waiting.
If you come to our store you can take it home right away.
Frequently Asked Questions
Do I need to embed this shelf to a wall?
What is the recommended age range for the shelf?
How long will it take to assemble?
What is the return policy?
How do I clean this product?
Where is this product manufactured?