Regular price
$299.00 USD
Regular price
Sale price
$299.00 USD
Unit price
per
Sale
Sold out
Montessori Floor Bed with rails.

Did you know that research shows that switching to a floor bed can help significantly improve your child's sleep habits, leading to better health and happiness?
Our Apple Montessori Floor Bed is a cozy, safe place for your toddler to sleep and explore. Think about it - when your baby is stuck in a traditional crib, they're surrounded by bars and depend on someone else if they want to explore. But with a baby floor bed, you're giving them the freedom to move and explore as they, please. Imagine the joy they'll feel waking up to a world of possibilities each morning!
Why choose the Apple Montessori Floor Bed for your toddler:
Child-centred Design -

For a stress-free transition to a big kid bed, keep it cozy with a crib-sized floor bed. By maintaining the same size mattress as the crib, your toddler will feel secure and comfortable for a peaceful night's sleep. Our floor bed design ensures a smooth transition that respects the adult-to-twin bed ratio, giving your child the perfect amount of space.

Space-Saving and Gorgeous - Ideal for small spaces, this floor bed fits a crib-sized mattress, making the transition to a twin or junior bed seamless. Your child can use it for as long as they feel comfortable.
Customizable Shelving - The bed features spacious shelves on the front, which can be adjusted to 4 different levels. You know your child best, so you can add items that will help them sleep better, like stuffed animals, books, a night lamp, or a cup.
Safe and Sustainable - With rounded corners, non-toxic materials, and eco-friendly paint, this bed and all others by Sapiens Child are made of beautiful Maple plywood (not plastic) for safe, long-lasting use.
Hygiene:

 

Unlike traditional mattresses on the ground, the Apple Floor Bed lifts the mattress from the ground, preventing mildew growth and ensuring perfect ventilation and airflow. Your child's health and well-being are paramount.
Secure Borders - The borders ensure that your child stays in bed for a peaceful night's sleep, with a convenient opening for easy access for crawlers and peace of mind for older toddlers.
Exceptional Quality - Unlike other brands, we go the extra mile and meticulously fill every tiny hole and varnish all edges to ensure a smooth and beautiful finish. Something you will notice once you get your product. 
100% Satisfaction Guarantee - If your child is not satisfied with our product, we offer a money-back guarantee. Check our positive reviews for more peace of mind. 
*Mattress and accessories not included. 

View full details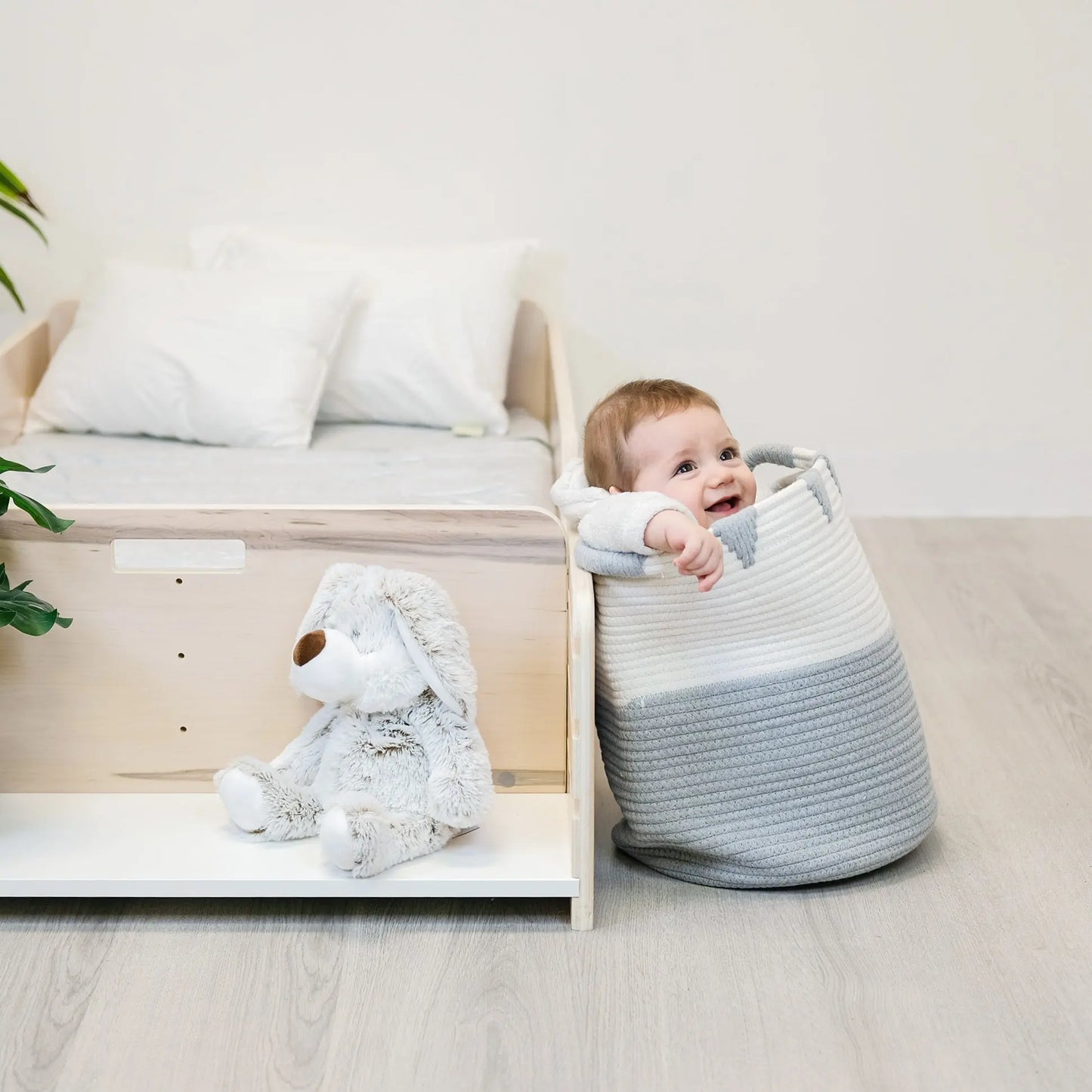 Express Monkey Dispatch
Most furniture stores will make you wait for weeks, if not months, before shipping your product. At Sapiens Child, we have your product ready to ship within one or two days of your order, so you can enjoy it sooner and spend less time waiting.
If you come to our store you can take it home right away.
Frequently Asked Questions
What's the recommended age range for the Apple Floor Bed?
What is the size of the mattress I need for this bed?
What's the weight limit this bed can hold?
How long will it take to assemble?
Does it include the mattress?
What is the return policy?
Where is this product manufactured?